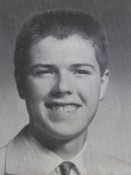 Lee died 12-09-2002 of Mesothelioma; a rare form of lung cancer due to asbestos exposure
He was survived by his wife Jean Ainsworth, Daugher Dawn ,son-in-law Patrick McKonep and son Shawn .
Lee had 30 years of dedicated service (1965-1995) to the citizens of Racine, WI as a traffic policeman, arson investigator and detective. He loved his work and had so many fascinating stories to tell. He also loved to travel, especially by train and especially to Glacier, Montana. He had a smile and a way to engage even the most remote person. He loved football: The Greenbay Packers, University of WI Badgers, and when he moved to Tallahassee, the Florida State Seminoles. He is missed A LOT!