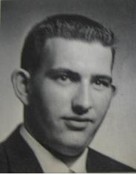 Mark A. Johnson

1943 - 2018


Mark A. Johnson, 75, formerly of Kenosha, late of Rockford, Ill., passed away peacefully, Friday, May 4, 2018, at OSF St. Anthony's Medical Center in Rockford.

He was born on Feb. 19, 1943, to the late Arthur and Emily (Herrmann) Johnson in Kenosha. He was educated in the schools of Kenosha and graduated from Mary D. Bradford High School. Mark also studied in the Lutheran Ministries.

On March 8, 1967, he entered the US Army. He served during the Vietnam Era and was honorably discharged.

He married Katherine Schmidt and later divorced. Mark married Marcy A. Strasser on May 5, 1984 at St. Mary's Lutheran Church in Kenosha.

Mark worked at AMC/Chrysler as a Supervisor. He moved to St. Louis following Chrysler and then to the Belvidere, Ill. plant, retiring on Jan. 31, 2000.

Mark enjoyed bowling, fishing, jigsaw puzzles and sudoku. He was an avid Badger and Packer fan. Mark enjoyed traveling with his wife Marcy. They traveled all over Mexico, the Caribbean, Hawaii and to New Zealand which was his favorite. He loved spending time at the lake in Northern Wisconsin and playing with his puppy Mork.

Mark is survived by his children Scott Johnson of Loves Park, Ill., Julie Johnson-Milkie (Jeff) of Kenosha, Wis., Lee Ann (Jay Varner) Fancher of Bennington, KS, Scott (Deena Travis) Shirland of Machesny Park, Ill. and Bobbi Jean (Todd) Kramer of Racine, Wis., his 12 grandchildren, his 16 great grandchildren, his brother-in-law Ted Martens of San Diego, Calif. and his sisters-in-laws Marie Neff of Verona, Va. and Jo-Ann Clark of Eau Claire, Wis.

He is preceded in death by his sister Nancy and his sister-in-law Yvonne Kennedy.

Funeral Services for Mark will be held on Monday, May 14, at the Bruch Funeral Home. Visitation will be held from 4 p.m. until the time of service at 6 p.m. with Full Military Honors to follow.