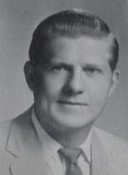 Eugene A. Greenwald
1943 - 2014
Eugene A. Greenwald, 71, of Kenosha, went to be with his Lord on Thursday, Jan. 16, 2014, at St. Lukes Medical Center in Milwaukee.
Born in Kenosha on Jan. 10, 1943, he was the son of the late Andrew and Elizabeth (Bauschelt) Greenwald. A lifelong resident of Kenosha, he graduated from Mary D. Bradford High School in 1961.
Eugene was employed as a forklift operator with Jacobsen, which later became Textron, for 34 years, retiring in 2002. Gene was a former member of St. Thomas Aquinas Catholic Church and was an avid golfer, loved baseball, basketball and fishing, and enjoyed taking trips to gamble at the horse track, dog track and casinos.
Surviving are his three siblings, Donna Van Winkle of Winter, Wis., Shirley (James) Seymour of Kenosha and James (Lynne) Greenwald, Sr. of Kenosha; as well as numerous nieces, nephews, other relatives and friends. He was preceded in death by two brothers, Donald and Robert; and two sisters, Lucille Jahnke and Terry Rasico. -