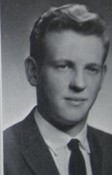 James Morton Sr.

1943 - 2017

James J. Morton Sr., 74, of Kenosha, passed away peacefully on Sunday, August 27, 2017 at St. Joseph Home & Rehabilitation Center.

Born in Kenosha, on April 23, 1943, he was the son of the late Leola (Woodward) and Elmer Morton Sr. A lifelong resident of Kenosha, he graduated from Mary D. Bradford High School in 1961. James served in the United States Army and was stationed in Germany until he was honorably discharged.

On March 2, 1963, he married Ruth Marie Helen Larsen. She preceded him in death on June 2, 2010.

He was employed as a machinist/repairman for American Brass. After his retirement, he worked part time at Securitas. James was a member of the Machinist Union Local 34. He enjoyed hunting, fishing, and tinkering. He had a great love for tools.

He is survived by his two sons, James (Kris) Morton, Jr. of Sussex, Wis., and Dr. Timothy Morton of Honolulu, Hawaii; his brother, Elmer Morton, Jr.; and his sister, Lucille (Kenneth) Morton-Anderson.

James was preceded in death by his brother, John Morton; and his sister, Ann Pier.