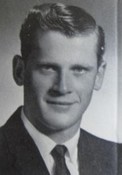 1943 - 2015
Virgil L. Nichols, Jr., 72, of Kenosha, died after a brief illness on Friday, March 20, 2015, at his home with his family by his side.
Born in Knoxville, Ia., on March 9, 1943, he was the son of the late Virgil L. and Mary M. (Gotta) Nichols, Sr.
On Oct. 6, 1963, at First Christian Church in Kenosha, he was united in marriage to Carol Nies.
For many years Virgil was employed as a Construction Laborer. Most recently, he was a brick layer and worked with Riley Construction Company. Virgil was a talented craftsman who excelled in carpentry and tile. He was a member of the Carpenters Local #237 and the International Union of
Bricklayers and Allied Craftworkers Local #4.
He was a member of First Christian Church in Wilmot.
In his younger years, Virgil was an artist and wrote poetry. He was an avid Green Bay Packer, Chicago Cubs and NHRA racing fan.
He is survived by his loving wife of 51 years, Carol Nichols; his three children, Lori Pfeiffer, Richard (Shelley) Nichols and Christine (Shane Muellenmann) Oswalt, all of Kenosha; his siblings, John (Peggy) Nichols, Donna (Ray) Amston and Ellen (Tom) Laba, all of Kenosha; his eight grandchildren, Heather, Jaimie, Marilee, Jacqueline, Amber, Kato, Michael and Sumer; and his seven great grandchildren, Kaylie, Jayden, Lukas, Monty, Cameron, Mia, Olivia and one on the way.
In addition to his parents, he was preceded in death by numerous aunts and uncles.
Funeral Services will be held on Wednesday, March 25, 2015 at 12 Noon at Piasecki-Althaus Funeral Home.
Interment will follow in Sunset Ridge Memorial Park. A visitation for Virgil will be held at the funeral home on
Wednesday, March 25, from 10 a.m. until the time of the service.