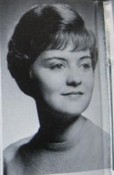 Gladys M. Halmo, 68, of Kenosha, died on Sunday, May 20, 2012, at United Hospital System - St. Catherine campus following a brief illness.
Born on Jan. 24, 1944, in Mississippi, she was the daughter of the late James Oscar and Arlon Leona (Horn) Barnes. She attended local schools and was a 1961 graduate of Mary D. Bradford High School.
In 1964 she was married to Kenneth Halmo. That union was later dissolved.
She was employed with Abbott Laboratories. Previously, she was employed with AM Community Credit Union, Sunnyside Credit Union and for many years, AMC/Chrysler Corporation.
Gladys loved her family and enjoyed attending her grandchildren's sporting events.
She is survived by her caring daughter, Carlice E. (Paul) Galli; and her loving grandchildren, Marissa and Christian Galli.
In addition to her parents, she was preceded in death by her sister, Glenda; and her grandson, Jonathan Galli.