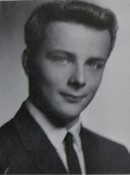 Gerald R. "Jerry" Bose, 69, of Kenosha, passed away suddenly on Wednesday, April 4, 2012, at United Hospital System - St. Catherine's Campus.
A lifelong resident of Kenosha, he was born on Feb. 24, 1943, and was the son of the late Leo B. and Florence (Socha) Bose. He attended local schools and was a 1961 graduate of Bradford High School.
On Feb. 25, 1967, in Kenosha, he was united in marriage to Jean Malke.
For 30 years, Jerry was employed as a Journeyman Sheet Metal Worker with AMC/Chrysler Corporation. Prior to AMC/Chrysler, he was employed with various local sheet metal shops.
Throughout his life, he valued his faith and was blessed to be a lifelong member of Our Lady of the Holy Rosary Catholic Church. He was a member of the U.A.W. Local 72 Retirees and a huge supporter of Pro-Life of Wisconsin. Among his interests, he enjoyed bicycle riding, Harley Davidson Motorcycles, Classic Cars; especially his AMX and vegetable gardening. A devoted husband, father and grandfather, he loved being surrounded by his family.
Left to cherish Jerry's life are his wife, Jean; his two sons, Leo (Mary) Bose of Wind Lake and Doug (Marla) Bose of Indianapolis, Ind.; his three grandchildren, Marie Jean, Michael Leo and Anna Marie Bose; his two sisters, Rosann Fuhrer and Diane (Jim) Larsen, both of Kenosha; and many loving nieces, nephews, and friends