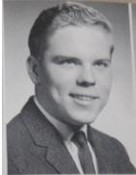 Robert J. Jr., "Bob" Carr, 69, of Burlington, passed away at his son's home in Burlington on Friday, March 23.
Bob was born in Waukegan, Ill., March 5, 1943, the son of the late Robert J. and Dorothy (nee.Turner) Carr Sr. He spent his early life in Kenosha where he graduated from Kenosha High School. On May 12, 1962 he married Judy A. Neitzel at Trinity Lutheran Church in Kenosha. She preceded him in death on April 4, 2007. Bob and Judy owned and operated Carr's Floral in Waterford for 31 years. He was a long time member of the Lions Club. He was awarded the prestigious Melvin Jones award and was considered a "Melvin Jones Fellow". Over the years he held many offices and positions within the Lions club. Bob took great pride in helping others.
He is survived by three children, Mike (April) Carr, Debbie (Dean) Simmons and Paul Carr; seven grandchildren, Ashley, Tiffinni, Andrew, Terry, Dalton, Cortney and Ryan, one sister, Sharon (Jim) Meni; several nephews and nieces; sister-in-law and brothers-in-law; other relatives and many friends.
Preceded in death by his parents, and his wife, Judy.