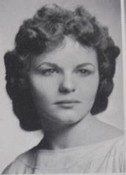 Judith Ann Judy Lee

1943 - 2012

Judith Ann Judy Lee, 69, of Kenosha, passed away peacefully, surrounded by her loving family, Monday, Oct. 1, 2012, at Kenosha Hospital.

She was born on July 22, 1943, to the late Joseph and Esther (Widmar) Chovan in Kenosha. She was educated in the schools of Kenosha and graduated from Bradford High School.

Judy worked at AMC/Chrysler as an assembly technician for 30 years.

Judy was a member of St. Therese Catholic Church.

Judy enjoyed gardening and was a movie buff. She loved spending time with her family, grandchildren, great grandchildren and friends.

Judy is survived by her children Cynthia (Chuck) Boutan of Toledo, Ohio, James A. Lee Jr. of Mercer Wis, Richard E. Lee of Kenosha and David J. (Kelly) Lee of Pleasant Prairie; her siblings, Joseph (Becky) Chovan, Kenneth (Linda) Chovan and Marilyn (Gary) Smith all of Kenosha, her seven grandchildren and her five great grandchildren.

One brother, Gary Chovan precedes her in death.