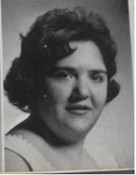 Lucia M. "Lucy" Fonte
1943 - 2016
Lucia M. "Lucy" Fonte, 72, of Kenosha, passed away peacefully on July 3, 2016, at her home surrounded by her family.
She was born in Kenosha on Sept. 25, 1943, to the late Giovanni and Maria (Cistaro) Iovine. Lucy was educated in Kenosha schools and was a 1961 graduate of Mary D. Bradford High School.
On Oct. 23, 1965, she was united in marriage to her "Honey Bunch" Tommaso (Tom) Fonte at Our Lady of the Holy Rosary Catholic Church.
Lucy was a devoted wife and a loving mother to three daughters. Her family was her life. Her joy increased with the birth of each of her four grandsons, whom she deeply treasured. She also shared her abundant love with her nieces, nephews, cousins, and close friends, supporting them with encouragement and love in every phase of their lives. Lucy's deep faith motivated her every action, and she will always be remembered for her gratitude saying, "I am thankful to God for all the blessings he has given me."
She welcomed everyone into her home and was known for her creativity in the kitchen, making delicious Italian specialties of every kind. Her creativity went beyond the kitchen as she enjoyed painting, drawing and singing. Lucy's favorite holiday was Christmas, which lived in her heart all year long and energized her even more each year. More than anything else, Lucy was known for the love she showed to family and friends.
While raising her three daughters, Lucy served as a "lunch lady" at Harvey Elementary School and worked in the school office. She served a term as President of the Harvey School PTA and volunteered at the school in many other ways. Lucy also worked at Park Drugs, Barden's Department Store, and at Holleb's in the bridal department.
Lucy was a member of Our Lady of the Holy Rosary Catholic Church, the Holy Rosary Society, the Italian-American Ladies Auxiliary and the Italian-American Women's Bocce League. She also was a member of the Kenosha Senior Center where she was on the bowling team.
Survivors include her husband, Tom; three daughters, Sylvia (Dennis) McGreal, MaryAnn (Jim) Roiniotis, and Vittoria "Vicki" (Brian) Sharkey; four grandsons, Tommy and Jimmy Roiniotis, Patrick McGreal, and Dominic Sharkey; and her brother, John (Santina) Iovine.
Along with her parents, she was preceded in death by two brothers, Mario and Frank Iovine and two grandchildren, Michael Anthony and Micaela Lucia McGreal. -