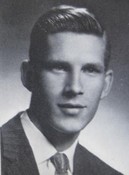 David A. Mink

1942 - 2015

David Mink, 73, of Kenosha passed away peacefully on Thursday, Dec. 24, 2015, at his home surrounded by his loving family.

David was born on Aug. 24, 1942, in Kenosha, the son of the late Thomas and LaVona (Hicks) Mink. He was educated in the schools of Kenosha, attending Grant, Washington, and graduating from Bradford H.S. He was a member of the U.S. Air Force, serving from 1961-1965 as an Air Force mechanic. David married Margaret Jorgenson on Aug. 20, 1966, in Kenosha at St. Mary's Catholic Church. He was employed in Electrical Maintenance for KUSD for 32 years, retiring in 1998. David was past president and board member of service Employees Local #168. His hobbies included golfing, fishing, volunteering for Meals on Wheels, and most of all spending time with family & friends.

Survivors include his wife of 49 years, Margaret Mink of Kenosha; his children, Scott A. (Michelle) Mink, Brian A. (Becky Bolton) Mink both of Kenosha; sisters, Linda (Ken) Slater, Ruth (Bob) Callan, Virginia Roders all of Kenosha; two grandchildren, Ian and Connor Mink; two step-grandchildren, Kim and Matt Bolton; and many nieces, nephews, and other family and friends. David was preceded in death by his brothers, John Mink and Kenneth Mink.

A visitation will be held on Wednesday, Dec. 30, 2015, at Kenosha Funeral Services from 5 p.m. to 7 p.m. and Thursday, Dec. 31, 2015, at Kenosha Funeral Services from 10:30-11 a.m. with funeral services to follow at 11 a.m. Burial St. George Cemetery.