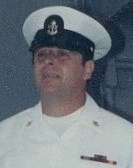 Stephen G. Pagliaroni
AUGUST 1, 1943 – MAY 25, 2015
Stephen G. Pagliaroni, age 71, of Swansea, passed away Monday, May 25, 2015 at his residence surrounded by his loving family. He was the husband of Jo-Anne (O'Brien) Pagliaroni to whom he has been married for the past 38 years.
Born in Tomah, Wisconsin, a son of the late Domenic and Ethelyn (Vincenz) Pagliaroni, he has been a resident of Swansea for over forty years.
A graduate of Mary D. Bradford High School, class 1961, he also received his associate's degree from Bristol Community College in Liberal Arts. A twenty-five year career Veteran of the United States Navy he served during the Vietnam War era retiring as Chief. During his time in the service, he was stationed in Iceland. He and the men he was stationed there with stayed in contact throughout the years and met annually. Mr. Pagliaroni also worked for the Providence Post Office for eighteen years and retired in 2006.
A lifetime member of the American Legion Post 303 in Swansea, he volunteered transporting local disabled Veteran's to their appointments. An avid Yankees and Green Bay Packers fan, he enjoyed fishing, playing cards, trips to Foxwoods Resorts and Casinos, and most of all spending time with his family especially his grandchildren and great grandchildren.
In addition to his wife, he is survived by four sons: Brian S. Pagliaroni and his wife Lori of Middletown, RI, Anthony D. Pagliaroni and his wife Anne of Swansea, MA, Michael G. Foley of Pawtucket, RI, Matthew E. Foley of Baltimore, MD, two daughters: Kristen A. Turcotte and her companion Daniel Durso of North Attleboro, MA, Kerin E. Gaboriau and her husband Roger of Tiverton, RI, one brother: David Pagliaroni and his wife Mary of Kenosha, WI, nine grandchildren, three great-grandchildren and expecting the fourth, and several nieces and nephews.
The family would like to thank staff of Beacon Hospice for their outstanding care and support.