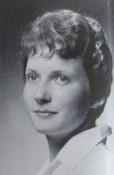 Judith A. Judy Nedweski

1942 - 2013

Judith A. Judy Nedweski, 70, of Kenosha died on Thursday, May 2, 2013, at Aurora St. Lukes Medical Center, Milwaukee.

A lifelong resident of Kenosha, she was born on Dec. 18, 1942 and was the daughter of the late Casimir T. Kye and Leona B. (Dubanewicz) Kunde. Judy attended local schools and graduated from Mary D. Bradford.

Judy was united in marriage to Joseph P. Nedweski on June 29, 1963 at St. Casimir Catholic Church. They were blessed with 37 years of marriage. Joe preceded her in death on March 24, 2001.

Judy enjoyed her position with Town Beauty Shop until 1974, then went on to work at Kohls grocery store as a cashier, retiring in 1995.

She was a member of St. Peter Catholic Church and a former member of St. Casimir Catholic Church. O how she loved to polka dance, enjoyed bowling and was a member of the 600 Club. Judy had an extensive Teddy Bear Collection. She was very crafty; creative with sewing and flower gardening.