Patricia J. Otto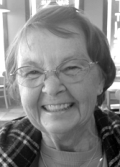 1943 - 2012


Patricia J. Otto, 69, of Racine, passed away peacefully, surrounded by her loving family, Saturday, Dec. 1, 2012, at Wheaton Franciscan-All Saints.


She was born on March 10, 1943, to the late Jacob Andrew and Grace I. (Noss) Patterson in Bloomsburg, Penn.

On June 22, 1963, Pat married her High School sweetheart James E. Otto at Friedens Evangelical Lutheran Church.

Pat worked as a nurse and was an educator at Gateway Technical College for more than 27 years.

Pat was a member of Atonement Lutheran Church. She enjoyed the book clubs and bible studies through the church.

Pat enjoyed music (playing, listening and teaching), gardening, camping, reading, sewing, crocheting, teaching, tutoring and traveling the world with her loving husband. Pat loved being with her family. She loved life, always living it to the fullest.

Pat is survived by her loving husband of almost 50 years Jim of Racine; her son, Jay (Meg) Otto of Madison; her daughter, Jean E. (David) Splitgerber of Waterford; her grandsons, Benjamin, Jason and Derek; her siblings, Merle E. (Lela) Patterson of Burlington, Richard L. (Bonnie) Patterson of Kenosha, Robert D. (Judy) Paterson of Pleasant Prairie, Mary L. (Punky) Bower of Pleasant Prairie, Shirley A. (Mel) Babel of Pleasant Prairie and Jeffery A. Patterson of Arkdale, Wis.