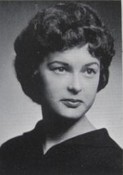 Pamela Krebs (1943-2018)
Pamela P. Krebs, 74, of Kenosha passed away on Tuesday, February 27, 2018 at Hospice Alliance-Hospice House with her family by her side. Pamela was born on March 24, 1943 in Kenosha to Howard and June Cripps and she was educated in the schools of Kenosha. She married Bernie Krebs in Kenosha on July 3, 1965. Pamela was a lifelong member of St. Elizabeth Catholic Church. She enjoyed being a stay at home mom and homemaker and whether it was shopping with her daughters or babysitting her grandchildren, Pamela's love for her family was number one in her life.
She was preceded in death by, her parents; a sister, Diane and her brother Keith.
Pamela is survived by, her husband of over 50 years, Bernie of Kenosha; her son, Christopher Kevin (Cindy) Krebs of Bowling Green, KY; two daughters, Sherry Lynn Krebs (Tony Infusino) of Kenosha
and Lisa Diane (Charles) Haeuser of Racine; six grandchildren, Courtney Krebs, Lauren Sturycz, Chad Krebs, Ashley Martinez, Aleks Haeuser, Samuel Haeuser; a great grandson, Brailyn Martinez; two sisters, Sandra Carson and Connie Navoichick; her brother, Freddie Cripps as well as nieces, nephews and many friends.
A Mass of Christian Burial for Pamela will take place on Friday, March 2, 2018 at 11:00 A.M. at St. James Catholic Church (5804 Sheridan Road) with entombment to follow at All Saints Cemetery. A visitation with the family will take place on Friday at the church from 9:30 A.M. until the time of Mass. In lieu of flowers, memorials to St. Elizabeth Catholic Church and Visiting Nurses Association would be greatly appreciated.
Pamela's family would like to express their sincerest gratitude to Dr. David Knight and his staff, Hospice Alliance-Hospice House and the Visiting Nurses Association for the care they have given to her.