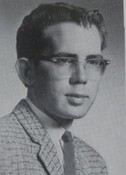 Michael V. Schumacher
November 27, 1942 - December 31, 2020
Michael V. Schumacher, 78, of Kenosha passed away on Thursday December 31, 2020 at Aurora Medical Center.
Michael was born on November 27, 1942 in Kenosha, WI, the son of the late John & Elsie (Peterson) Schumacher. He was educated in the schools of Kenosha. On March 31, 1964 he entered the United States Marine Corps and was discharged honorably on March 29, 1968. During that time he served 1 tour of duty in Vietnam. On August 16, 1969 he married Carolyn L. Wojtak at St. Casimir's Catholic Church. They had two children, Christine & Aaron.
Michael was employed for 25 years as a customer service representative for Wisconsin Natural Gas. He was also owner/operator of the Kenosha Military Surplus & Supplies until 2015. He was a member of the Kenosha Marine Corps League, VFW Post 2751, Post 7308, and American Legion Post 21. Michael was All Sate Post Commander and Quartermaster in Post 2751, Veterans Council President 91-95, Veterans Council Veteran of The Year 1993, and ran the Military Careers Post for the B.S. of A for 8 years. His hobbies included spending time with his family & friends, especially his grandchildren.
Survivors include his wife, Carolyn Schumacher; his 2 children, Christine Glover, Aaron (Amy) Schumacher; grandchildren, Austin, Annika, Andrew, and Aidan; and Nieces, Kimberly (Rodney) Labre, Karen Kollmann. Michael was preceded in death by his sister, Marilyn Kollmann, and niece, Linda Kollmann.
A memorial gathering will be held on Thursday January 7, 2021 at Kenosha Funeral Services from 10:00AM to 12:00 Noon, with memorial services to follow at 12:00 Noon.