Kenosha native running famed marathon at age 78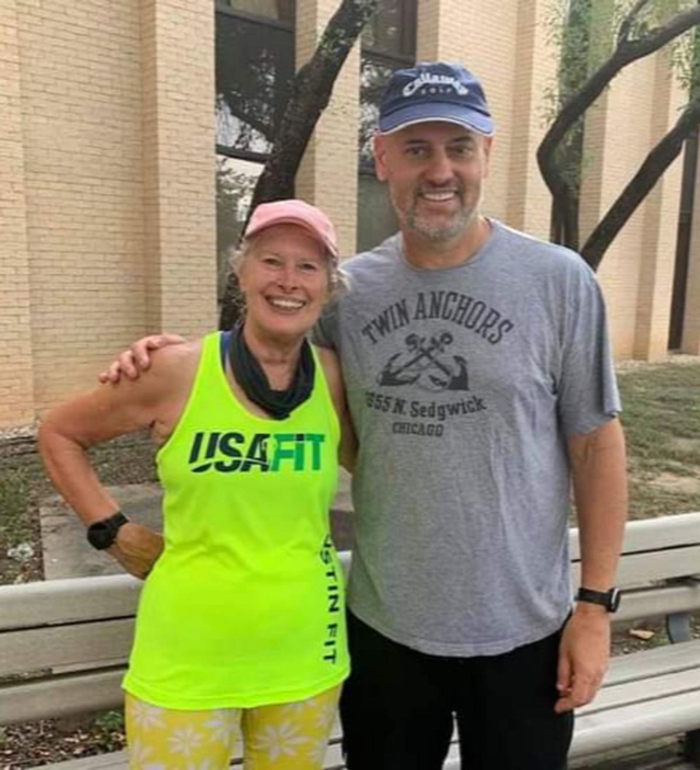 Kenosha native running famed marathon at age 78
Physics Professor Karen Ostlund will miss her class Monday.
But she has a good excuse.
Instead of working with students at the University of Texas in Austin, where she has taught for 38 years, the 78-year-old will be running the Boston Marathon for the first time.
She's far from a novice runner, however, having completed more than 100 marathons.
She started running in her late 30s as a way to help out a friend.
"I was in grad school at the University of Minnesota, working on my doctorate, and one of my colleagues was dating a professor who was a runner," Ostlund said on the phone Wednesday. "She asked me to train with her and run a four-mile race because she didn't want to come in last place alone. I didn't think I could do it, but I did — and we didn't come in last. Next we trained for a 10K race."
After going to Grandma's Marathon in Duluth, Minn., with friends, Ostlund decided to run it herself the next year, at age 40.
Since then, she has completed about three marathons every year — but never the famed Boston Marathon.
"It's been a longtime goal of mine to do this race," she said. "But I'm not a fast runner and could never qualify." (Runners must be able to complete a marathon in a set time to run the Boston race.)
She was able to enter the marathon as part of a 16-member charity team.
"I'm what they call a charity runner," Ostlund explained. She agreed to raise $10,000 (including $1,000 contributed by herself and her family) for Community Rowing Inc.
"They have rowing programs for people with disabilities and for kids, to give them the experience of being on a team," Ostlund said. "I have a friend who had breast cancer, and being on a rowing team with other cancer survivors really helped her. It's a worthwhile group, so I was happy to raise money for them."
Ostlund will run with her son, but she "hopes he runs his own race. He's faster than I am, and he doesn't have to stay with me."
Her husband, Frederick Taylor, has run the Boston Marathon twice, in 2010 and 2016, with Ostlund there to support him.
"He told me not to worry about the course," she said. "People complain about Heartbreak Hill in Boston, but he said it's nothing compared to the hills we have here in Austin."
A social runner
No matter how her race goes on Monday, Ostlund will enjoy the experience.
For her, running is a fun activity that also keeps her in shape.
"Running is my social time," she said. "I run with my husband, my son and my friends. I've also been a coach for other runners. I like helping people get ready to run their first marathon."
Liz Snyder Kenosha News
ANNOUNCEMENTS
Nancy Julien is inviting you to a scheduled Zoom meeting.

Topic: Class of 1961
Time: Sep 21, 2020 11:30 AM Central Time (US and Canada)
Every month on the 21 of the month, until Dec 21, 2021, 16 occurrence(s)
Sep 21, 2020 11:30 AM
Oct 21, 2020 11:30 AM
Nov 21, 2020 11:30 AM
Dec 21, 2020 11:30 AM
Jan 21, 2021 11:30 AM
Feb 21, 2021 11:30 AM
Mar 21, 2021 11:30 AM
Apr 21, 2021 11:30 AM
May 21, 2021 11:30 AM
Jun 21, 2021 11:30 AM
Jul 21, 2021 11:30 AM
Aug 21, 2021 11:30 AM
Sep 21, 2021 11:30 AM
Oct 21, 2021 11:30 AM
Nov 21, 2021 11:30 AM
Dec 21, 2021 11:30 AM
Please download and import the following iCalendar (.ics) files to your calendar system.
Monthly: https://us04web.zoom.us/meeting/up0qdOitrD4rGtcafH2b8GFAnFq61OSSqi9P/ics?icsToken=98tyKu6hqTgrH9aQsRmER7Z5B4jCd-_zpiVcjbdenRnNUSILRSXXOMRTZONQI-vB

Join Zoom Meeting
https://us04web.zoom.us/j/79731525103?pwd=dWhZeVdJNGg2Wk1ndEIwNFFyNElUdz09
Meeting ID: 797 3152 5103
Passcode: 3h38U5
Would anyone be interested in doing a 'ZOOM' once a month or more with the Class of 1961?? Let me know and I will TRY and set one up‼️ Thanks -